(Charts provided by Insurance Information Institute)
Motorcycles are by their nature far less crashworthy than closed vehicles. They are also less visible to other drivers and pedestrians and less stable than four-wheel vehicles. Operating a motorcycle requires a different combination of physical and mental skills than those used in driving four-wheel vehicles. Motorcyclists and their passengers are more vulnerable to the hazards of weather and road conditions than drivers in closed vehicles.
In 2017, 5,172 motorcyclists died in motorcycle crashes, down 3 percent from 5,337 in 2017, according to the National Highway Traffic Safety Administration (NHTSA). In 2017, motorcyclists were 27 times more likely than passenger car occupants to die in a crash per vehicle mile traveled.
According to NHTSA, "The number of motorcyclists killed in crashes dropped to 4,985 in 2018, an almost 5% decrease, but motorcycle riders are still overrepresented in traffic fatalities. To keep everyone safe, we urge drivers and motorcyclists to share the road and be alert, and we're reminding motorcyclists to make themselves visible, to use DOT-compliant motorcycle helmets, and to always ride sober."
MOTORCYCLE HELMET USE, 2000-2019 (1)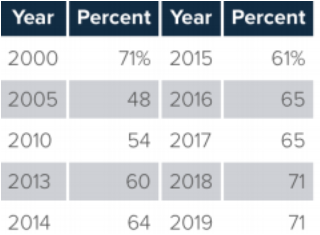 NHTSA estimates that helmets saved the lives of 1,872 motorcyclists in 2017. If all motorcyclists had worn helmets, an additional 749 lives could have been saved. Helmets are estimated to be 37 percent effective in preventing fatal injuries to motorcycle riders and 41 percent for motorcycle passengers. In other words, for every 100 motorcycle riders killed in crashes while not wearing a helmet, 37 of them could have been saved had all 100 worn helmets. NHTSA also found that nearly $3.5 billion in economic costs and $21 billion in comprehensive costs were saved in 2017 by the use of motorcycle helmets. Moreover, if all motorcyclists had worn helmets in 2017, an additional $1.5 billion in economic costs and $8.9 billion in comprehensive costs could have been saved. Economic costs include lost productivity, medical costs, legal and court costs, emergency medical service (EMS) costs, insurance administration costs, congestion costs (including travel delay and other costs), property damage, and workplace losses. Comprehensive costs include economic costs plus the valuation for lost quality of life.
MOTORCYCLIST FATALITIES AND FATALITY RATES, 2008-2017
MOTORCYCLIST INJURIES AND INJURY RATES, 2008-2017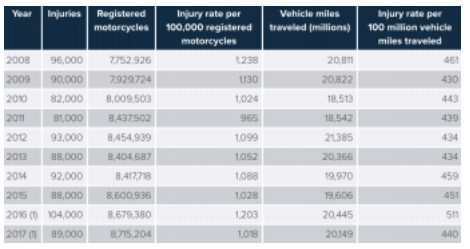 MOTORCYCLISTS KILLED, BY TIME OF DAY AND DAY OF WEEK, 2017